Back to news
---
Thursday 10 December 2015 01.42 GMT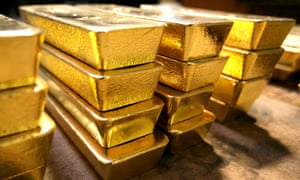 Gold bars in Switzerland where Italian international tax dodgers stashed 70% of their undeclared wealth. Photograph: Sebastian Derungs/AFP/Getty Images
The Italian government said on Wednesday it was set to rake in at least €3.8bn euros (£2.75bn/US$4bn) after tax dodgers took advantage of an amnesty deal to declare money and assets hidden abroad.
The so-called voluntary disclosure programme, which was launched a year ago and ended on 30 November, brought to light nearly €60bn euros in undeclared wealth, the economy ministry said in a statement.
"The [resulting] tax revenues are estimated at around €3.8bn. With interest the final proceeds could easily reach around €4bn," the statement said.
The Italian authorities received 130,000 voluntary declarations as a result of the scheme, amounting to a total of €59.5bn, it said.
Some 70% of that was hidden in Switzerland. To a lesser degree funds were also stashed in Monaco, the Bahamas, Singapore and Luxembourg, the ministry said.
"Unlike previous measures the taxpayer taking part in this scheme still has to pay the total tax and interest, it's only the penalties that have been reduced," the statement said.
The ministry hailed the voluntary cooperation scheme as a success, saying the "era of banking secrecy is over".
"The relationship between the tax authorities and the taxpayers starts afresh with a renewed dialogue that will be based essentially on trust," the ministry said.
The centre-left government in October approved a €27bn-€30bn budget designed to ensure a fledgling economic recovery takes wing in 2016 at the cost of slowing the reduction of the country's massive €2.2tn debt.
By the government's own estimates, annual losses to tax evasion exceed €90bn with almost half that down to sales taxes not being paid.
Source: http://www.theguardian.com/world/2015/dec/10/italy-says-international-tax-dodger-amnesty-is-bringing...
---